This is a special customisation made for where a business has multi branches/shops under it, so it requires multi-location setup in a single WooCommerce system. So that individual shop manager in the same system can check the order details and deliver the products accordingly.
For Administrator
Please understand you need 2 of our plugins (
WooODT Extended
and
Map Addon
) for this apart from our customized copy. With this the set up is simple you need to set up the individual locations like below.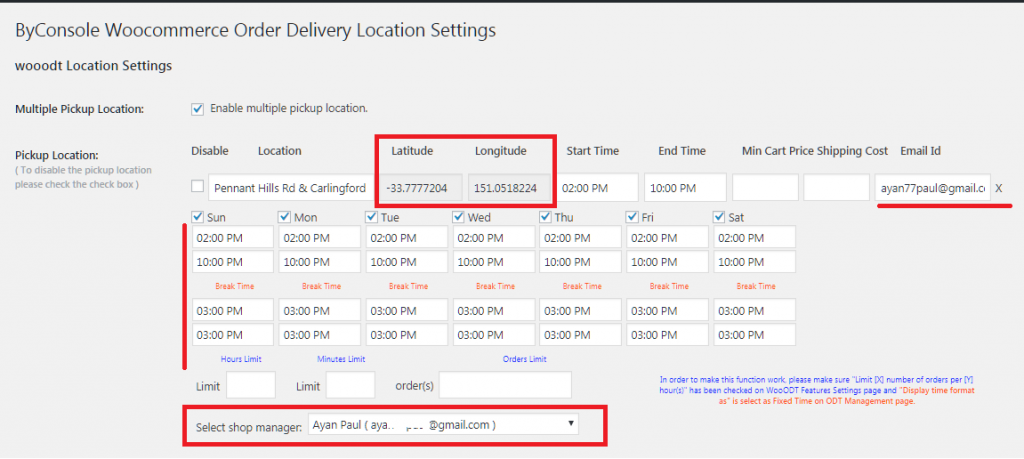 As as you can see the location takes the geographic coordinates. Here the administrator can set up his different branches timetable and the shop manager assigned to that branch.
You also need to put the address of the master shop at the back end with the API key so that the map can calculate the distance during delivery.
For Shop Manager
Each shop manager will be able to see orders related to their shop and will also get an email notification for same. He will be able to see the customer details,the product and can set the status of the order to pending, cancelled etc. In this multi-vendor setup in a single WooCommerce system there will be two list one for pickup and other for delivery so as to make it easier and simpler for both the admin and the shop manager.
For The Customer
Pickup
When the customer goes to the checkout then in case of pick the process is simple the customer needs to select the closest pickup point which will then show in map, add his details and order
Delivery
In this case our system will take the nearest store once the customer has put in his address and convey to him that out of shop A, shop B and shop C the item shall be delivered to him/her by shop B which is nearest to his location assuring the the customer of a speedy delivery.
Thus a chain of establishment will have a better management
Please note this will require you to purchase our pro plugins WooODT Extended and Map Addon. As well as our paid customised copy for Order listing via a request sent to us by mail at support@byconsole.com.

To know more of our plugins –
https://www.plugins.byconsole.com/
To go back to main blog page –
http://blog.byconsole.com/
How to setup: