Here we discuss WooCommerce Product Repeat Delivery Dates Setup in the fourth part of the setup series. This also explains the setup difference between Menu Rotation/Product wise time table and Multiple dates plugin. The basic difference being Each day allows multiple days per product hence there is no setup product wise like menu rotation.
As explained in the past blogs you need to install WooCommerce Product Repeat Delivery Dates before setting it up.
First you need to download zip files from my downloads section followed by going to WP dashboard and then navigating to add new plugin and uploading the zip file. Please choose the latest version.
NOTE – Both Menu Rotation and Product wise timetable have single day selection where as this plugin has multiple date selection.

Menus of the plugin
As you can see below there are total of 5 menus starting from the basic setup of Each day Delivery to the Available short codes that can be put to make thing seamless. We will see each menu in this WooCommerce Product Repeat Delivery Dates Setup One by one.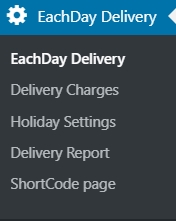 A. Each Day Delivery
Here you can set the number of month in calendar to the number of day you want to restrict ordering. As in other cases this is the basic set up page with the additions to a a minimum amount for free delivery day wise or multiple day wise.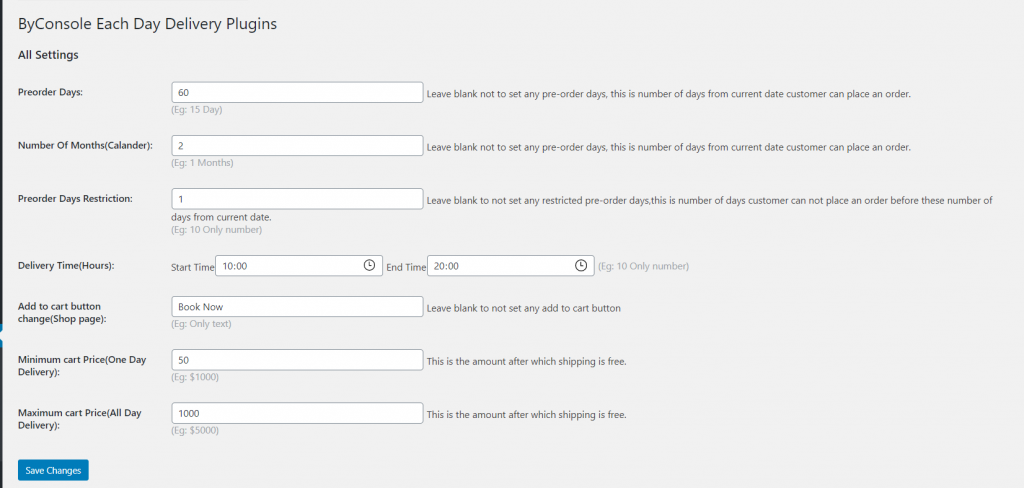 B. Delivery Charges
Here you can add each areas own delivery charge which will be reflected in front end. this is in those cases in which you cater to a sate /county but different areas have different charges such as below is the set up in case of California state


C. Holiday Settings
Here you can set holiday for the plugin days . It can be date wise or daywise.

D. Delivery Report
This is the reporting part which is available for laundry plugin and Extended plugin as a add on. It provides reports and can also be downloaded as CSV. For chef role it shows jut the number of meals on that particular day.


It shows for delivery person the products ordered on the particular day of delivery having extra information such as order number, meal type , delivery date and time, quantity , name of customer and his contact details like phone number his is in the latest version of Product Repeat Delivery Dates
7.Available Shortcode
This is just information page in order to know the dishes and if you want to print the delivery report in the front end.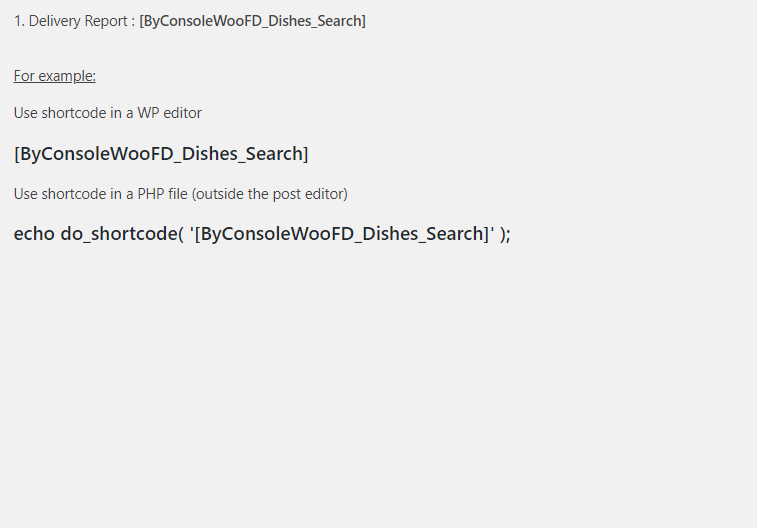 The thing to note here is that unlike menu rotation there is no setup product wise because it allows multiple day selections.
These are the basic setup instructions for Product Repeat Delivery Dates.. To request any particular type of customisation please mail at support@byconsole.com. If you are having any issues please mail at the same. To go to our product page – https://www.plugins.byconsole.com/product/woocommerce-product-repeat-delivery-dates/
To go to our Setup series – https://blog.byconsole.com/category/setup-series/
How to setup:
Necessary Items:
WordPressWooCommerce Product Repeat Delivery Dates