Want to create your own delivery/pickup service routine? There is a solution with WooCommerce. Our plugin has that feature which allow you to create your own delivery/pickup service routine. How it works, we explained it below.
This is to show you how to create your own delivery/ pickup service routine.
Here we have two kind of configuration
Different delivery and/or pickup time(a dot time by 15 minutes interval or an automatic slot of 30 minutes) for each day and for each location
Custom slot(time slot and interval as per your wish unlike the previous one) for each location(it will be repeated for all seven days of a week)
So as an example of the 2nd option follow this:
Suppose your Delivery/Service Routine is
A) Delivery will happen only on Weekdays. from 3 pm to 8 pm at The Nail World bhawanipore and Friday and Saturday between 10 – 2 Day time at The nail world Kaikhali respectively.
B) Pickup will be at 2 locations
The nail world Kaikhali – 4 pm to 7 pm on Sunday, Monday and Tuesday
and
The Nail World Bhawanipore – 11 Am to 3 Pm and Wednesday,Thursday & Friday limiting the deliveries to 10
(both the locations are in areas of Kolkata )
So first you have to set the timings and days in location setting of ODT management
Remember to set break time in between the start time and the end time. If you don't have a break then use same value as break start and end time.


Pickup Settings: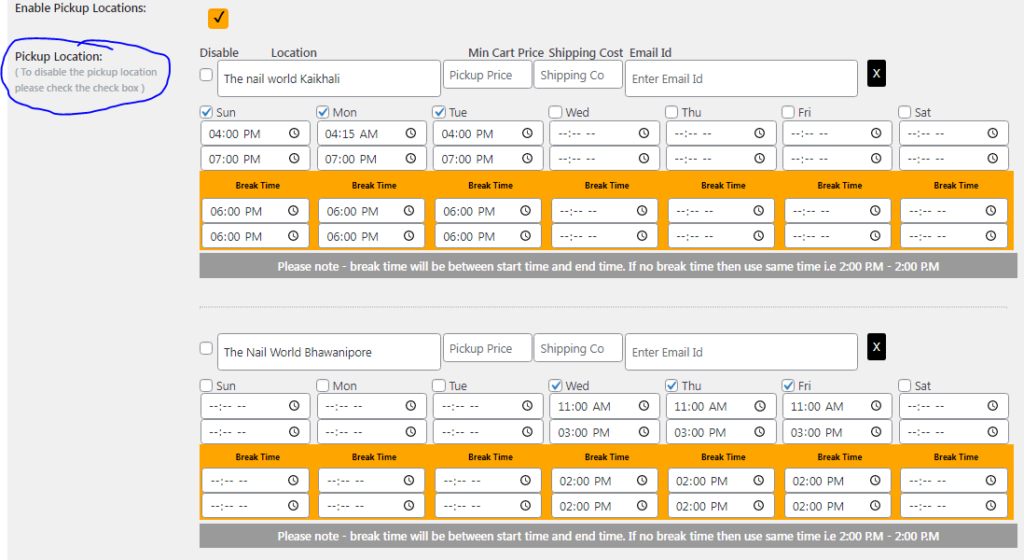 Delivery Settings: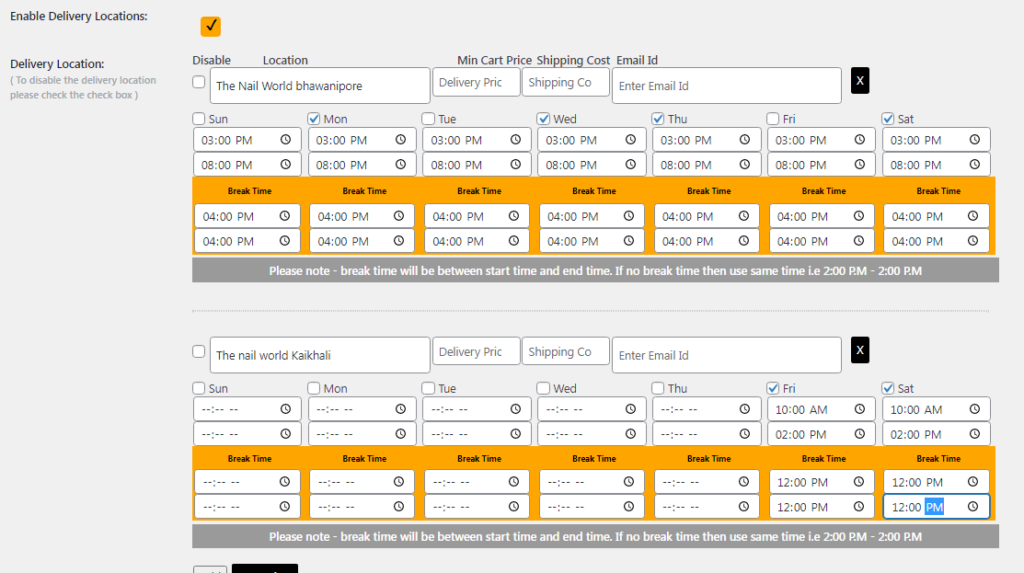 Once you have set the timings and date in the location settings then go to van management of Management
Like so –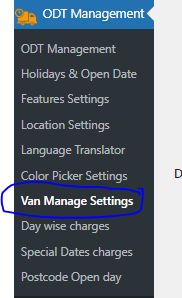 Remember to save all these settings.
End result will be –
Pick up – ( The nail world Kaikhali)
Pick up ( The Nail World bhawanipore)
Delivery
Please note that you need to select time slot in the ODT management settings

NOTE- In case you don't want a break time put the break start and break end timings as same e.g 2:15 PM-2:15 PM in case of location settings menu, which is to be set up as below.
Get the plugin here – https://plugins.byconsole.com/
How to setup: